Looking for a secluded serene fly fishing experience with abundance of large trout?
Choose time fly fishing Escatawba's quality private waters and make memories that last a lifetime.
Why spend time trout fishing private waters?  One answer is, there are more and larger trout.  Fly fishing enthusiasts do not need to subject themselves to pressured and congested waters competing with anglers for a good spot.
At Escatawba; you can expect a friendly welcome, pristine private waters, tranquil majestic mountains of the Alleghany Highlands and what some say, "The best fly fishing in Virginia and West Virginia."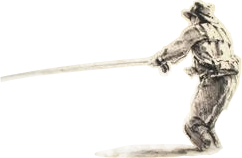 ---
---
Hours of Operation: 8am to 7pm